Existing U.S. Home Sales Rise to Close Out Best Year Since 2006
January 22, 2016
Purchases of previously owned U.S. homes rose more than projected in December, helped in part by warmer weather and wrapping up the best year since 2006.
Contract closings jumped 14.7 percent, the most on record, to a 5.46 million annualized rate, figures from the National Association of Realtors showed Friday. The median forecast in a Bloomberg survey called for a gain to 5.2 million. Prices picked up as inventories eased. For all of 2015, sales climbed to 5.26 million from 4.94 million.
The December sales rebound was driven by industry adjustments to new mortgage regulations that had delayed closings a month earlier. Strong hiring and low borrowing costs are drawing more prospective homebuyers into the market.
"The distortions in November suppressed sales, and as that got sorted out you saw a rebound," said Joshua Shapiro, chief U.S. economist at Maria Fiorini Ramirez Inc. in New York. "You average the two months and the truth is somewhere in between."
The Realtors group projects sales in 2016 will struggle to replicate last year's increase because interest rates may rise and a lack of supply is keeping prices elevated.
The number of previously owned homes on the market dropped to 1.79 million last month. At the current sales pace, it would take 3.9 months to sell those houses, the lowest since January 2005 and down from 5.1 months at the end of the prior month. Less than a five months' supply is considered a tight market, the Realtors group has said.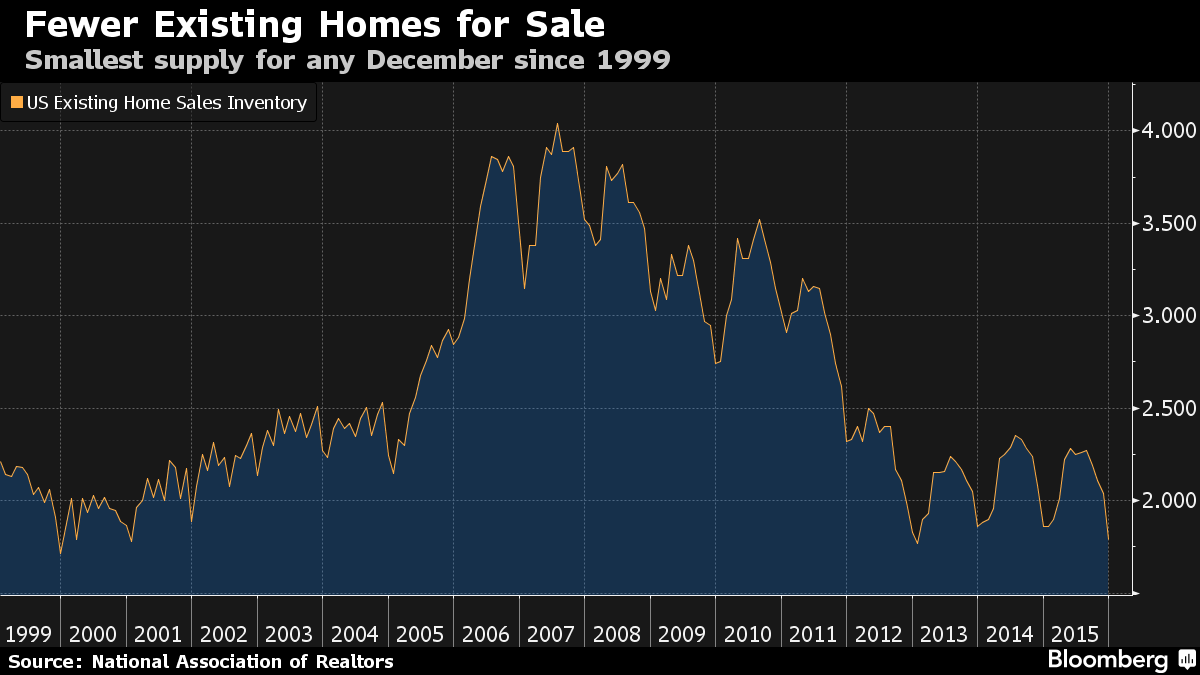 "A housing shortage appears to be in the cards," especially as the spring sales season approaches, Lawrence Yun, NAR chief economist, said at a press conference as the report was released. Meanwhile, "buying activity is very steady."
Bloomberg survey estimates for previously-owned home sales ranged from 4.82 million to 5.5 million. Purchases slumped 10.5 percent to a 4.76 million pace in November.
A change in regulations that consolidated the closing process and the introduction of new forms that are processed by lenders and title companies led to delays in November, Yun said.
The data are "confirming it was delays, not cancellations," he said. "All those rolled over into December."
Median Price
The median price of an existing home rose 7.6 percent from December 2014 to reach $224,100. For all of 2015, the median cost climbed 6.7 percent to $224,400.
While increasing property values allow homeowners to feel wealthier and make it easier for them to trade up, they make it less affordable for some prospective buyers.
First-time buyers accounted for 32 percent of all purchases, matching the highest since August and up from 30 percent a month earlier. All-cash transactions made up about 24 percent of purchases.
Distressed sales, comprised of foreclosures and short sales, in which the lender agrees to a transaction for less than the balance of the mortgage, accounted for 8 percent of the total.
Sales of existing single-family homes jumped 16.1 percent to an annual rate of 4.82 million. Purchases of multifamily properties — including condominiums and townhouses — rose 4.9 percent to a 640,000 pace.
By Region
Purchases climbed in all four regions, led by a 23 percent surge in the West. Demand increased 14.6 percent in the South and 10.9 percent in the Midwest.
Existing-home sales, tabulated when a purchase contract closes, account for more than 90 percent of the residential market. New-home purchases, which make up about 7 percent and are tabulated when contracts are signed, are considered a timelier barometer.
Prospective buyers may continue to face relatively low borrowing costs. Federal Reserve policy makers, who in December lifted interest rates for the first time since 2006, have said further moves will be gradual.
The average 30-year, fixed-rate mortgage was 3.81 percent in the week ended Jan. 21, the lowest since October, according to data from Freddie Mac in McLean, Virginia.
The job market has buttressed housing. A jump in December payrolls capped the best back-to-back years for employment since 1998-99, one reason residential construction also improved last year.